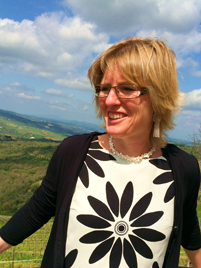 I am Lisa, Alessandro's wife and together with my husband I manage Fiore Wines Sas. Why matching wine with boxers? Well, this is my (our) story…
I was born in Florence just over 40 years ago and till the encounter with the man who would later become my husband and the father of our children, I had no idea what was hidden behind the birth of a fine wine. Of course, being Tuscan, wine has always been present on the table, but one thing is to drink and appreciate it, another thing getting to understand all facets and attentions hidden behind its creation … it's a road I have undertaken thanks to and together with Alessandro.
After our wedding (in 1996) we moved to a beautiful country, South Africa, where our job had brought us. Here was born our girl Amandaolivia and together with our life as a family, in those years was born our "symbiosis" with Boxers: dogs both powerful and gentle, complex in their nature and at the same time simple with their joy for living and unconditional love for their family.
Once back in our homeland – it was 2001 – our family increased with the birth of Greta Seona and Niccolò (respectively in 2001 and 2003) and we created the Fiore Wines Sas, with the intention of representing in the world small and medium-sized Wine Estates. The business has developed and grown, to our satisfaction, and brought us to the direct production under the Fiore Wines brand of the current 3 wines.
In my life, every time I tasted a new wine, I always had at least one boxer looking at me in amazement, asking me with his eyes what was I tasting so good! And with the repetition of these experiences I began to see a connection between a good wine and these dogs: both appear simple to a superficial gaze (taste), but that reveal deep and complex facets to a closer examination!
Thus, it was natural for us to mention those Boxers that, generation after generation, have followed each other at our side: Marta, Alberto and Cesira in the beginning and Mina and Bruno today! And for this very reason we have decided to represent this bond on the labels of our wines: apparently simple and easy to drink, but with a strong character and determination that will be revealed to those who'll want to indulge a little, just like happens with Boxers!